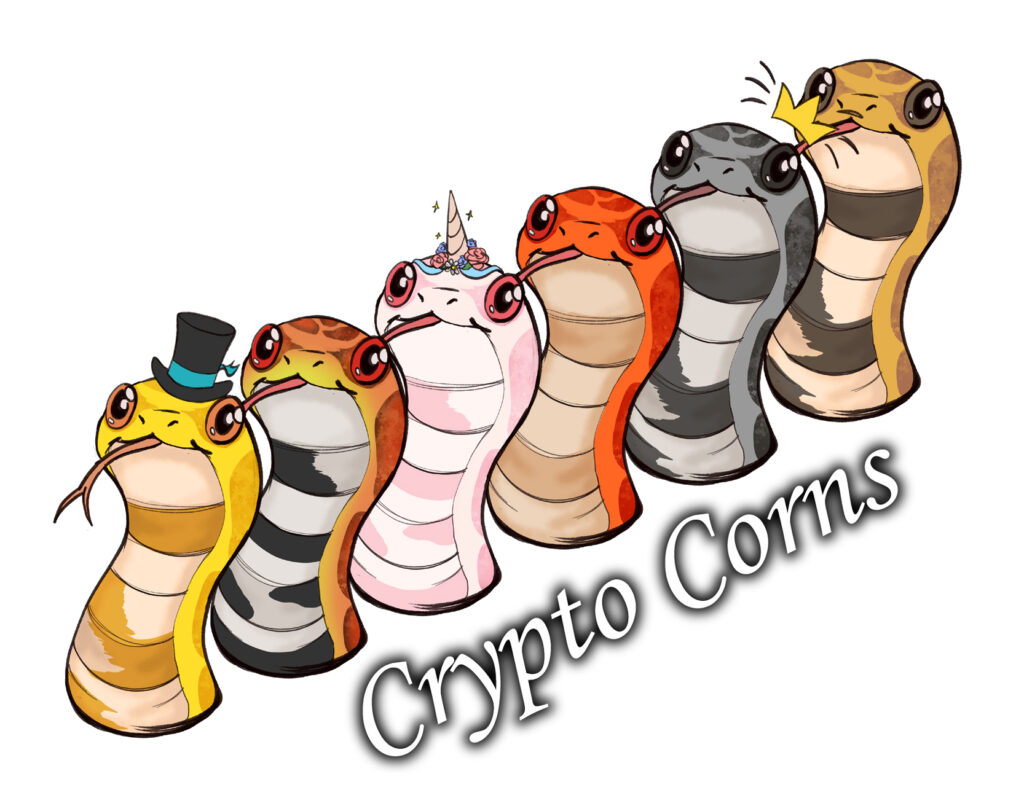 Crypto-Corns NFT roadmap

What are Crypto-Corns?
Crypto-Corns are collectible cartoon pictures of corn snake morphs in PNG format. Different morphs will be minted, and each morph will have a specific rarity.

How many Crypto-Corns will be minted?
In total 101 Crypto-Corns will be minted. There are 6 different morphs (Normal, Amel, Anery, Caramel, Snow, Butter) and 4 different styles of headwear (Plain, Hat, Crown, Unicorn), which makes a total of 24 different combos.
Morph +
Headwear
Number minted
Morph +
Headwear
Number minted
Normal Plain
16
Caramel Plain
5
Normal Hat
10
Caramel Hat
4
Normal Crown
8
Caramel Crown
3
Normal Unicorn
5
Caramel Unicorn
2
Amel Plain
5
Snow Plain
4
Amel Hat
4
Snow Hat
3
Amel Crown
3
Snow Crown
2
Amel Unicorn
2
Snow Unicorn
1
Anery Plain
5
Butter Plain
4
Anery Hat
4
Butter Hat
3
Anery Crown
3
Butter Crown
2
Anery Unicorn
2
Butter Unicorn
1
Why should I buy a Crypto-Corn NFT?
With a company name that is "Future-Morphs", I am always thinking ahead what the future will hold in the snake world, but I also think that crypto is the future.
So, are you like me: You love snakes and you also like crypto? Then this is a NFT project that is perfect for you.
You don't buy my NFTs to flip and resell for a quick profit, but you buy them to be part of a community and you will get benefits from holding them. But of course, with any limited NFT project, the prices can go up.
It is all about demand (because the supply is fixed).

What will the future hold for anyone who buys a Crypto-Corn?
Even though this is all digital, I prefer real life contact, so that is what the benefits are aimed on.

* If 25 of all Crypto-Corns are sold, I will hold a Skype call with all NFT holders, so we can all get to know each other.

*If 50 of all Crypto-Corns are sold, I will get an extra table at Snakeday (Houten, the Netherlands) were we can all meet up and exchange snakes and stories.

*If 75 of all Crypto-Corns are sold, I will organize a barbeque for all NFT holders.

* If all 101 Crypto-Corns are sold, I will organize a day full of reptiles and fun for all NFT holders.

Besides these benefits, a holder of any Snow or Butter Crypto-Corn, will get 10% discount on one purchase per year at Future-Morphs, with a maximum of three years. So, if you decide to resell your Snow/Butter NFT after two years, the next owner will still get a 10% discount for one year.

Where can I buy a Crypto-Corn NFT?
I will offer all Crypto-Corns on my Open Sea account:
https://opensea.io/collection/crypto-corns

Also, I will offer the Normal morph via 'mint on demand' on my Spring web shop, especially for people who don't own a crypto wallet yet. This way I hope to get more people involved in the world of crypto.
https://Future-Morphs.shop

What is a NFT and how long does my token last?
A NFT is a Non-Fungible Token and as an art and collectable, it lasts forever. The additional underlying benefits of the Butter and Snow Crypto-Corns will expire 3 years (1095 days) after purchase.

Can I resell my Crypto-Corn?
Yes. Crypto-Corn tokens can be resold on NFT marketplaces such as OpenSea and Rarible etc. If a Crypto-Corn token is resold there will be a 10% royalty fee to Future-Morphs.

Can I merchandise my Crypto-Corn?
All Crypto-Corns and tokens are intellectual property owned by Future-Morphs, as such, token owners cannot sell or distribute Crypto-Corns or the designs in any way. There will be an option to buy merchandise with these characters from me in the near future.

What blockchain are these NFTs minted on?
NFTs are minted on the Polygon blockchain using token standard ERC-1155 via both Opensea and Spring.

I still have questions. Who do I contact?
You can always send me a message via email, facebook or whatsapp, and I will gladly answer them all.


Thanks and hope to see you all soon in real life or on Opensea!

Josua Hannink
Future-Morphs